ReqBot is no longer free. Support donation required now.
See: viewtopic.php?f=62&p=1352#p1352
Introduction:
"Requiem Bloodymare" (Copyright© Gravity Interactive Inc.) is a fun darkly themed F2P (Free-To-Play), item mall and premium supported MMO game.
Screen-shot: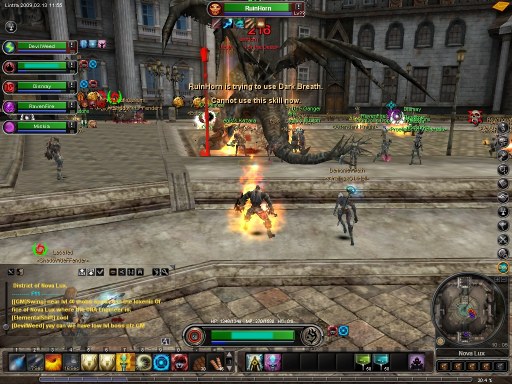 Game site:
http://www.playrequiem.com
Info:
http://en.wikipedia.org/wiki/Requiem:_Bloodymare
More screen-shots:
http://media.pc.gamespy.com/media/142/14227962/imgs_1.html
Some reviews:
http://pc.gamezone.com/gzreviews/r34370.htm
,
http://www.gamespot.com/pc/rpg/requiem_mmo/index.html
,
http://pc.ign.com/articles/881/881692p1.html
Bot:
This Requiem bot was a private project I started early last year (2008) while mostly in closed beta.
I expanded it to use as sort of a test bed for MacroMonkey version 2.0, to develop the GUI window system, etc.
Only the North American version is supported currently.
At first just a solo character version then perhaps a cooperative party version (in development) later.
Support donation required now, MacroMonkey system still free.
See the "download" thread to get it, and read the "guide", "class", etc., threads to know how to use it, and know it's current limitations.
Don't abuse it!:
The bot has some features that can be potentially abused in PVP, etc., but don't!
Don't cause problems for other players, game masters, and the developer, et al.
You will just cause problems for your self, and, or, others and the PVE useful features will be patched or removed entirely.
They just removed HS ("Hack Shield") we don't want it back (or any protection system) they hog resources.
And (for those that think this way) the common excuse "I did it to help them (the developer)" is no justification.
Please use ReqBot responsibly. This means mainly - respecting other players.
Updates:
The client is almost always updated every Thursday night by the developer.
The ReqBot "service DLL" must match the client. At the minimal something won't work right, more then likely it will crash the client.
You should

not

run the Requiem launcher until ReqBot has been updated to match the current client!

There is good chance (since HS is gone) as long as they didn't make a major server side changes that the client will still run fine.
We'll try to update ReqBot before the update period is over, but there is no guarantee there there won't be any delay.
Support the game:
If you play and like the game, please support it by buying some item mall stuff, and, or, pay the monthly premium service.
You will level faster and have advantages in PVE and PVP with HP boosts, better healing pots, etc.
EXP items (and, or, premium) is almost a necessity to level with the death vs leveling rate in the 60+ levels.
And if you support the game, chances are it will be around a long time to enjoy..