Sorry for the outage guys, I'm catching up on all the PM, posts, etc.
First of all, I'm trying to keep the site stable and everything.
This was the first real outage I've had here for any length of time.
It wasn't for the lack of paying anything.
Domain name registration and hosting was due for renewal next month so I went merrily paying it all back on September the 6th.
I use a registrar named "Domains Priced Right!", who turns out come from a line of few subterfuge companies/names like WildWest Inc., leading to
GoDaddy.com
.
This all happened when I went to pay them with PayPal and it asked me for a credit card.
Never seen a PayPal link that demanded a credit card.
To me this was a security outness, and really why should I take this risk and trouble to add a credit card to the account when it wasn't at all necessary.
To make a long story short it ended up going to the wrong PayPal account that ended up being denied.
On September 9th I got a message from PayPal telling me this so I immediately decided to bite the bullet and go ahead and use the CC, etc., to get them payment and be done with the problem which I did.
I logically figured ok, I've paid and if they have any problem they will email me.
September 15th I was gone until late after noon.
Then as usual, as I normally do several times a day, is log on to the form to look for PMs and new posts only to find the site being parked at some generic "Domains Priced Right!" website.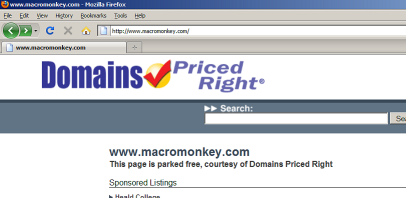 I checked my email and the only thing I saw was "Cancellation Confirmation".
Of course this was nonsense and non sequitur as I haven't "canceled" anything.
Negligently, perhaps maliciously, they just plain seized my domain and parked it some place else with total disregard to to my livelihood, the use of a domain as a brand, trademark, etc.
There was no warning what so ever, not even a 24 let along one hour notice, nothing.
Now this is a domain name that was not expired, and even technically paid up an extra year.
This was out and out
fraud
!
Next I called their customer service and talked to a CR rep then the manager.
Apparently they are in the red (paying out money) already when you register.
Plus they have a low profit margin, etc.
Now they call it a service business, have "Universal Terms of Service Agreement", but then they want to tell you it's NOT a service business.
So if they see a negative balance they do this kind of thing.
Despite the fact the domain was not expired, despite I'm paid up one year, and they I have been their customer for at least two years.
Who would even think your domain registrar can and would freely seize your domain name.
You have to read "Domains Priced Right" many page, 22+ item TOS, etc., to see it's the typical cooperate "we owe you nothing, we are not responsible for anything, you can't sue as for anything.." type agreement.
Again, fraud and negligence.
Also incredible stupidity. You would think logically if they are in the red already then it would be smarter to give at least 24 hours to resolve any problems that way a customer or their own mistakes can be fixed.
Unless it's worth it to them to steal people domains names or something for their value.
Then in order to get my domain back I had to pay for the "missing" year.
I didn't really have a problem with this as it made sense from their perspective.
But the fact they created the problem and seized my domain unwarranted then made it a requirement to pay yet more to my domain back
makes this
extortion
plain and simple!
Then they tell me it will take about 24 hours for the site to come back.
So some time later it was back ground 1pm'ish today September 16th, 2010 (for a downtime of about ~26 hours total).
This whole thing, wasting hours of my time, time of theirs, plus damage to their reputation (by the time I'm done with my complains and bad ratings) could have been avoided with the common courtesy of some kind of message to resolve the issue for both parties.
Giving a modicum of respect to someone who has been their customer for the last two years.
After the their gross negligence, Federal offenses of fraud and extortion MM is up and running again.
I will switch registrars ASAP and hope that it will go smoothly.
Needless to say, be advised to avoid anything directly or indirectly part of GoDaddy.com